Our handbook for user centered design and development for Information and Communication Technologies is published now. Unfortunatelly only in german at the moment. We are working on the english version.
Autors: Ehrenstrasser Lisa and Egger Veronika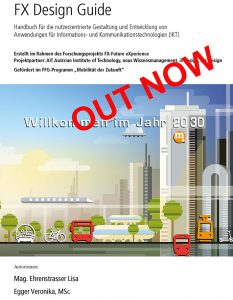 The FX Design Guide is an outcome of the research project FX-Future eXperience, funded by the national FFG-Programme "Mobilität der Zukunft", projectnumber: 865214.
Project partners: Austrian Institute of Technology AIT (Consortial leader) nous Wissensmanagment, is-design, iDr Design
More about our research.