Our experience and knowledge comes from projects in the areas of Universal Design, user centered Design und User Experience Design.
Our working areas
User centered development and implementing of interaction concepts (analog to digital).
Design and Implementation of  information- and orientationsystems for built environment.
Planning and operating Stakeholder- and user involvment in Universal Design processes.
Design concepts and proof of concept for interaction, interface and product design
In each project we customize the modules and interventions – depending on the complexity of the project and the defined level of user involment. Our goal is to accomplish the best use quality possible.
Here are two recent design projects for wayfinding in the histrorical areas. Both projects are classified as references – including the wohle design process: research, evaluation, concept, design, stakeholder and user involvement, implementation and consulting.
Orientation- and informationsystem at Schallaburg
Client: Schallaburg GmbH, project partner: is-Design GmbH, implemenation: 2020
What you want to know when exploring an hinstorical place is very much depending on which position you are, what you are looking at, what your interests are, who you are with, your personal background and so on. Therefore, an orientation and informationsystem has to fit in the surrounding design and architecture and still be analog (physical) and not only digital and webbased.
Work iDrDesign: Concept, design, consulting and implementation of the information and wayfinding system. Monitoring production and assembling in situ.
Orientation- and informationsystem at Hofburg Imperial Palace Vienna
Client: Burghauptmannschaft Austria, project partner: is-Design GmbH, Implementation (second phase): 2020
The Hofburg Imperial Palace Vienna is the largest profane building complex in Europe. It is one of the most visited tourist sites in Austria and carries the European Cultural Heritage Label. During renovations of the parliament building the Austrian Parliament is temporarily situated in the Hofburg, they will move out again within the next years.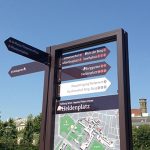 What the design had to deliver: awareness for the large extent of the total heritage site (nearly 50 ha/123 ac), visible identity of place, meeting the needs of all users, adaptability to change and … more.
Work iDrDesign: Consulting, analysis and study of the areal, concept, design and user involvment in several steps. Design of the 3dimensional map (CAD). Implementation of the information and wayfinding system. Monitoring production and assembling in situ. Concepts for crossmedial interaction (analog – digital).